---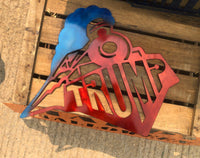 Show your support for our president, with this amazing steel collectable metal art. Proudly display your American pride and display your new trump train. I have a limited quanity left, don't be left out. 
Custom fabricated metal art
Shipping available.  Local pick Up in Belle Fourche  SD: please allow 7-10 days for order completion, you will be contacted with P/U location when your order is ready. 
Each item is handmade and unique, difference in texture, paint, material may vary and is to be considered special as no two pieces are a like!
Creating a truly unique gift which is sure to be remembered for years to come!