---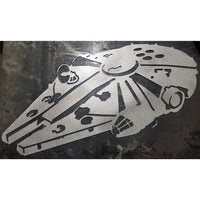 You tell him that Han Solo just stole back the Millennium Falcon for good."  Star Wars Episode VII: The Force Awakens
Despite her humble origins and shabby exterior, the Millennium Falcon has played a role in some of the greatest victories of the Rebel Alliance and the New Republic. The Falcon looks like a worn-out junker, but beneath her hull she's full of surprises. 
Perfect for the Star Wars fan in your life. Get them (or yourself!) a custom metal Millennium Falcon sign, Get ready to defeat the empire!  Silver paint - 23 x 10 inches 
Unique one of a kind custom metal art gifts 
Shipping available.  Local pick Up in Belle Fourche, SD.  Please allow 7-10 days for order completion.   You will be contacted with P/U location when your order is ready. 
Each item is handmade and unique, difference in texture, paint, material may vary and is to be considered special as no two pieces are a like!
Creating a truly unique gift which is sure to be remembered for years to come!