---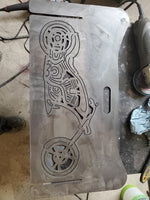 Sale
I made a mistake still looks good and is very functional. Take it as it is.  You paint it.  It has a couple small flaws you will probably never notice. But here is a smoking deal for someone. It comes apart to store flat.
First person with 100.00 owns it.
Had hd bar and sheild with bullet holes on each end.
Built out of 10 gauge steel.
I will not hold. Normally this is a 225.00 pit
So over half off
Unique one of a kind custom metal art gifts 
Shipping available.  Local pick Up in Belle Fourche, SD.  Please allow 7-10 days for order completion.   You will be contacted with P/U location when your order is ready. 
Each item is handmade and unique, difference in texture, paint, material may vary and is to be considered special as no two pieces are a like!
Creating a truly unique gift which is sure to be remembered for years to come!